BLACK FRIDAY SPECIAL: Kamado All-In-One (Includes Nest Shelves Ash Tool Grate Lifter)
SKU: PRI-773
Availability:
In Stock (5)
Description
The Primo Kamado All-In-One is our traditional 18.5" round Kamado style ceramic grill. Features a new ergonomic handle, Cradle Stand, FDA approved food safe Side Tables, Ash Tool, and Grate Lifter. Features also include a cast iron top vent, easy-to-read thermometer, porcelain coated cooking grate, and a stainless steel lower draft door. It features our All-In-One Grill Bundle, Premium-Grade Ceramics, & Optional Rack System & Accessories. Grill Weight 240 lbs; Cooking Area 280 sq in;Cooking Grid 18.5" dia; Temperature Range 150°—850°F+
Included
1x BLACK FRIDAY SPECIAL: Kamado All-In-One (Includes Nest Shelves Ash Tool Grate Lifter)
Features
The combination of our premium-grade ceramics and Primo Natural Lump Charcoal creates amazingly juicy food with true charcoal flavor. The ceramic shell helps food retain its natural moisture, unlike metal grills that pull the moisture out. Our charcoal is made from American hardwoods and infuses your food with a distinctively mild smoky flavor. Cook as low as 150°F to smoke a salmon or to well over 850°F for sizzling ribeyes. Or cook "low and slow" for multiple hours to enjoy a succulent leg of lamb or tender pulled pork. You can be ready to cook in as little as 15 minutes; the same time it takes to preheat a gas grill. Another great feature of our Natural Lump Charcoal is that it can be relit for multiple cookings. Primo ceramic grills practically take care of themselves. Periodic inspections ensure that your grill will perform and look great for years. Our grills also work like a self-cleaning oven. Primo ceramic grills are made to live outdoors. Our premium-grade ceramics, glazes and hardware are made to withstand extreme climates. Depend on Primo Ceramic Grills wherever you live. Premium-Grade Ceramics Primo ceramic grills are composed of a proprietary blend of natural materials to make the highest grade of ceramics available for superior heat and moisture retention. Combined with quality-controlled production processes and an unmatched firing temperature, our ceramics are significantly more efficient than other ceramic grills. Use less fuel, reach your desired temperature faster and reduce your cooking time with Primo.
Warranty
Limited Lifetime Warranty Backed by a Twenty (20) year guarantee on all ceramic parts. Five (5) years on all metal parts (excluding cast-iron parts). One (1) year on all cast-iron parts. Thirty (30) days on thermometers and felt gaskets. Primo Oval G 420 Gas Grill Limited Lifetime Warranty Backed by a Twenty (20) year guarantee on all ceramic parts. Limited Lifetime Warranty on burners and gas valves. Five (5) years on all metal parts. One (1) year on the igniter. Thirty (30) days on thermometers and felt gaskets. This warranty shall be limited to the repair or replacement of any part (s) which, under normal use, Primo determines, after reasonable examination, to be defective. In order to invoke this Warranty, Purchaser has two options for submitting a warranty claim:
Complete your item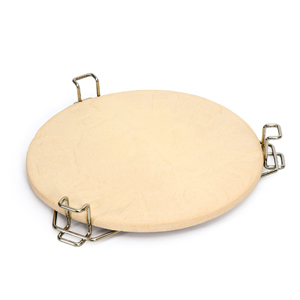 Heat Deflector Rack With Stone Kamado
$100.00
Add to Cart