Castlewood 42"" Wood Outdoor Fireplace
SKU: HTL-ODCASTLEWD-42
Select options below to price your complete product
Availability:
Not in Stock 03/12/21
*This item is not in stock. Items from Outdoor Lifestyles take 5-10 business days to arrive. After you place your order, we will conact you with a firm ETA.
Features
Expansive 38"" high firebox opening, Stainless steel mesh curtain screens, Black grate, Transition collar, Dual gas knockouts, Outside air hoods, 41-7/8"" x 38"". viewing area, UL & ULC listed, Brick interior panels for an authentic masonry look, Requires SL1100 series pipe. See Venting section., Cooling hood or all non-combustible materials are required., Canada: Requires SL400 series pipe, SLA10 and CAK8A. See Venting section. This fireplace offers single-sided viewing.
Warranty
All parts including handles, external enameled components and other material are warranted for 1 year. Igniters, auger motors, electronic components, molded refractory panels, glass liners and glass are warranted for 2 years. Castings, medallions and baffles are warranted for 5 years. Catalyst is warranted for 6 years. Manifold tubes, HHT chimney and terminations are warranted for 7 years. Firebox and heat exchanger have a limited lifetime warranty. (Please contact us for further detail)
Select Builder Options:
Add to Cart
View Cart
Checkout
Frequently bought together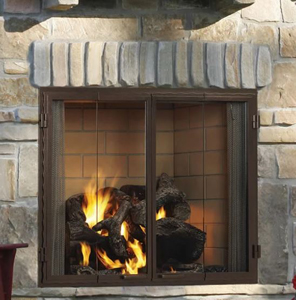 42"" Castlewood Brick Refractory - Herringbone
$917.00
Add to Cart
42"" Castlewood Brick Refractory - Traditional
$654.00
Add to Cart